A day in the life of Pamela Nyironga
---
When Registered Nurse Pamela Nyironga accepted the award for Excellence in Residential Care as a part of the 2023 WA Nursing and Midwifery Excellence Awards, she was carrying something special with her.
In a serendipitous moment, Pamela had discovered her mum's Zambian nursing registration card alongside the perfect earrings for the special night. "I tucked it in my purse and then when I accepted the award, a little part of her was with me," Pamela said, fondly remembering her mother — who was her inspiration to pursue nursing.
Her mother, a midwife in Zambia, would often solo deliver six babies on a nightshift. She proudly saw Pamela studying for her diploma before she passed away.
"The award has allowed me to believe in myself more. So many people have congratulated me, and some have said it's inspired them to study nursing. I'm honoured and humbled and I really hope it does inspire people to take up nursing in aged care, just like my mother inspired me."
The need to be real, kind and understanding
Pamela often gets told "that's crazy" and "I don't know how you do it" when she explains that she works in aged care. "As an RN in aged care — administering medications, injections and all that goes with nursing — is part of the job. It goes deeper than just nursing. In aged care you need to be real, you need to be kind and take the time to truly understand someone," Pamela said.
"At university they talk about empathy, but it is just a word. What they don't teach you is true compassion and kindness and how to express that."
Pamela's focus on care stems from her career trajectory. She joined Juniper as a multiskilled carer in 2015 working at Juniper St David's Residential Aged Care Home in Perth's inner suburbs, before studying to be an enrolled nurse. She recently graduated as a registered nurse.
She's completed work placements across emergency, orthopaedics, coronary and mental health.
A second home
"In hospitals, when you knock off, you just go home. Aged care becomes your second home. Some of the residents at Juniper St David's have been here since I started, and you become attached. In other places it's like a conveyor belt of patients. I love that in aged care there is that connection, that attachment," she said.
"It's so important we take the time to get to know the residents so they feel comfortable. It's really helpful to learn from them and their family about their cultural background so you can weave their stories into their person-centred care plan."
That connection also extends to the team.
The handover
"At the start of my shift is handover and meeting with the multiskilled carers, who I have the utmost respect for. You need to know who is in the kitchen, who's cleaning. A cleaner who has been working for 20 years is going to know a lot.
"As an RN you work as a team, on the floor, leading by example. You need to be approachable so when any staff notice changes with our residents, they come and tell you."
Mealtimes and bedtimes
There are two favourite times during Pamela's day at work — mealtimes and bedtime.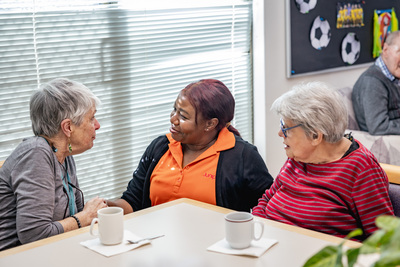 "Growing up in Zambia our family would gather around the table and talk about everything. Mealtimes at Juniper St David's takes me right back. You see all the residents together, sometimes we have some residents singing or dancing. I just love that part.
"As a nurse it's also a great place to observe — is someone not eating, are they struggling to swallow, are they in pain. By observing small changes you can take a proactive approach.
"I also love bedtime. Often they'll give my hand a squeeze and say 'you look after yourself when you go home'. It makes me feel so fulfilled."
---